Every product was carefully curated by an Esquire editor. We may earn a commission from these links.
The Best Albums of 2022 (So Far)
Eddie Vedder. Earl Sweatshirt. Charli XCX. The Weeknd. You know their names—but have you heard their new records?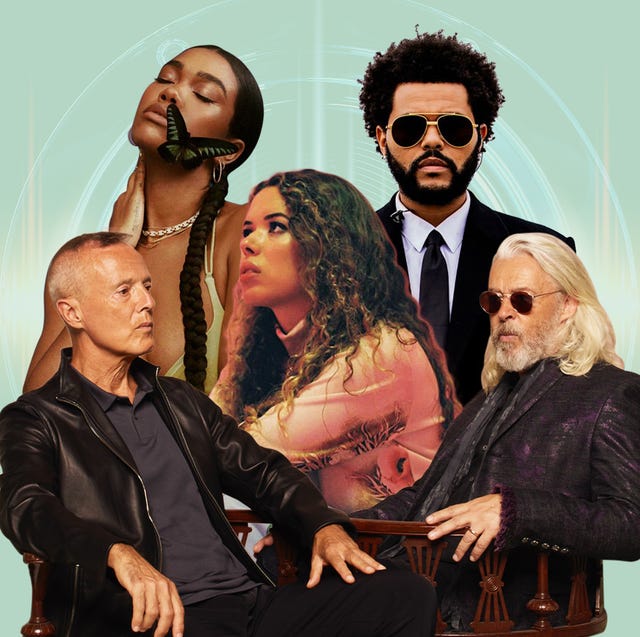 The hills are alive with the sound of music. Tours are back. Tears For Fears returned. Eddie Vedder found a new groove. Charli XCX dialed up the pop dial (even further???). Maren Morris broke her sound down. There are precious few music headlines in 2022 that we don't like. The year's just a little more than half over and the collections that will live well past their release dates on airwaves, playlists, and vinyl shelves has stacked mighty high.
As always, we're keeping track of the best of the best and dropping them below. You'll find indie rock jams and pop bangers and classic rock, well, classics, ready to delight and amuse or, in some special cases, offer you that holy escape that only music can provide. We'll be back with more in the months ahead, but for now, these are the best albums of 2022, so far.
Advertisement - Continue Reading Below
Maggie Rogers isn't afraid to get vulnerable. And much of Surrender sounds exactly like what the first smack of crisp morning air feels like: real and raw and a little jolting. Freeing. Rogers spent much of the writing this record shut off from the world, up in Maine, and the songs invite you right back into those scenes, watching horses running wild or "cruising 95 like we got nothing to lose." Her previous record, Heard It In A Past Life was great, but with Surrender, Rogers hasn't only found her sound, she seems to have found herself. –Ammal Hassan
Let's face it, anything Beyoncé does is a cultural moment. And with Renaissance, we'll be thanking her for years to come as we head to the dance floor. The LP is the superstar's seventh solo album and takes on a sound she has rarely dabbled in before: dance and house music. Boasting a large number of samples and collaborations, including an iconic appearance by Grace Jones, the record is carefully curated—every sound, lyric, and transition nailed to perfection. We get to hear her get romantic in flirty riffs on "Plastic On The Sofa" and also totally lose herself, going off with a "Yada, yada, yada, bom-bom, kah-kah" in "Heated." She earns her title—Queen—all over again. —AH
Banks is still leveling up, somehow. Her previous albums stewed in heartbreak, the bitterness of being broken, and, eventually, forgiveness. But Serpentina carries a different tone, one where the artist is shedding the past and people's opinions, instead coming back born anew and stronger than ever. On "Misunderstood," the best song on the record to describe Banks's new era, she sings,"If I had just one penny for/Every time somebody didn't get me/I wouldn't need this hustle, man/But, damn, I love this hustle/You don't have to understand." And we heard that loud and clear. –AH
Harry Styles, Harry's House
After his outrageously good 2019 album, Fine Line, Harry Styles is back—and even better. After a debut LP soaked in the '60s and Line's obsession with the '70s, in 2022 the singer moves firmly into the sequin ball '80s. He carefully pairs synths and dreamy melodies with lyrics about everything from green tea and light-speed Internet to cocaine and bluebirds. It's random, sure, but that's the fun. Head out for a drive and turn this one way, way up. – AH
Though The Weeknd has been in the top echelon of pop music for most of the past decade, the last few years have seen him launch into an entirely new stratosphere. One entirely of his own. After Hours and the record-shattering single "Blinding Lights" defined and dominated pop culture in these early, fraught 2020s. And with Dawn FM, the artist made his most complete artistic statement yet. Dawn FM is an album–a full album in a time when many artists are releasing collections of singles to be plucked and streamed and TikTok'd independently. DJ'd by a sultry-voiced Jim Carrey, Dawn FM is a near-future radio broadcast that works best taken as a whole. "Take My Breath" hits hard and fast with Daft Punk-esque sheen among a handful of early club-crushing bangers. "Out of Time" and "Here We Go… Again" offer a mid-album break from the blistering synths with yearning neo-R & B ballads. The heartbreak keeps coming in Dawn FM's back half, balancing out the drama with the clever funk of "I Heard You're Married" and the dewey-eyed "Less Than Zero." Like a neon-drenched dance party in dark times, Dawn FM is a welcome escape open to close. —Matt Miller
Read our full review here.
This is the Eddie Vedder solo album we've been waiting for. Earthling is a big, sweeping mainstream rock album about life and loss and grief and aging, and it's even more fun than it sounds. Eddie sounds like he's enjoying himself here, like he's relaxed into his place in the modern era of classic rock, like he'll take a swing at a couple of tracks that would have ended up on a Tom Petty album and make them work. Stevie Wonder and Elton John drop by, but the record never slips into Grammy-tribute-jam territory. Turn on "Brother The Cloud," roll down the windows, and scream this last two years right out of your lungs. —Dave Holmes
Maren Morris, Humble Quest
What do you do when you scale the mountain? Tumble back down, of course. Maren Morris is a king in country music these days, headlining festivals and fairs, performing in super groups, and nabbing couch time during Late Night. That's gone to her head, but not her ego, as her excellent new LP testifies. Humble Quest is the sounds of one woman journeying through doubt, grief, and depression to find worth and happiness. But while it plumbs, the set never wallows; its Laurel Canyon-meets-70s FM arrangements positively soar. —Madison Vain
If there is one thing FKA twigs knows how to do, it's how to play with sound. With a series of idiosyncratic, innovative albums, FKA twigs has long marked herself as the queen of experimentation. Caprisongs is no exception to that tradition. The singer continues to test the limits of her voice, flying with it at points and "Yee"ing with it at others. She channels her Jamaican roots with songs like "papi bones" and "jealousy" that offer up a Dancehall feel, some Afrobeat influence and that unique FKA twigs twist. This album appears to reinvent the singer anew, again. Speaking on "meta angel," twigs reflects on the struggle she has faced coming out of her shell "Each year I'm like, ah, I'm gonna own my shit, and then each year I'm still so shy and so quiet," she confided. Perhaps in her earlier music, traces of that shy girl can be found if you search past the ethereal enigma she has always adopted. But, in Caprisongs she acknowledges that shyness and then proceeds to have fun. With this album she seems to say "yes, I am ethereal, but I am also a person who likes to play around." —AH
Big Thief, Dragon New Warm Mountain I Believe In You
"Would you live forever, never die / while everything around passes?" Adrianne Lenker asks in the opening track of Dragon New Warm Mountain I Believe In You. And, for an album recorded during the summer of 2020, it feels like a radical question. A freewheeling, and gloriously alive album of 20 staggering tracks, Big Thief's Dragon is a spirited journey filled with inside jokes, natural beauty, and humanity. Songs like "Sparrow" meander with woodsy mysticism, while "Spud Infinity" takes country twang to weird and welcome places. Recorded in locations across the U.S. like Arizona, Colorado, upstate New York, and Los Angeles, the album captures the energy of American folk and rock roots, but does so with a bold curiosity. —MM
Tears For Fears, The Tipping Point
Tears For Fears do not give you quantity, but they will give you quality. Roland Orzabal and Curt Smith's first album together in 18 years gets off to a slow, uncharacteristically-acoustic start with "No Small Thing," but they're off to the races immediately after with a title track that would have fit onto 1985's Songs From The Big Chair. The album bounces between intimate ballads, bombast built to fill the stadiums they're touring this summer, and "Break The Man," the breeziest condemnation of the patriarchy you're likely to get all year. It's the soundtrack to the John Hughes reboot you're writing in your head. —DH
Charli is back and, my god, louder than ever. That her 2022 LP would mark the singer's final in a five-album record deal with Atlantic Records—a partnership that she has publicly lamented many times over its lifespan—has earned plenty type face. But Charli hardly mailed her send-off in. Instead, songs are brasher and bigger and purer in their pop pursuits. (Somewhere, a dancefloor quakes in excitement.) Atlantic may call it an ending, we're calling it a beginning. —MV
With Laurel Hell, Mitski once again reminds us why she is so deserving of her feverish following. Toying with her regular themes of sadness, isolation, and self-doubt over heavy indie-pop synths, the Japanese-American singer-songwriter brings in a deeper description of the complexities of pain than ever before. With lines such as "I always knew the world moved on/I just didn't know it would go without me" in "Working for the Knife" and "Well, I've held on, but I feel a storm approaching," in "Heat Lighting," Mitski reckons with the realization that even success cannot curb sadness. This album is a poetically honest telling of her relationship with her job, with romance, with herself and with the world around her. Mitski's career has been successful for a while now, but Laurel Hell cements her place as an artist with a staying power to outlast even the generations after us. —AH
Earl Sweatshirt has always made music on his own terms. He exists outside of trends, and often, outside of conventional musical structure. His albums are brief, dense, and brilliant. 2018's masterful Some Rap Songs covered 15 tracks in under 25 minutes. Its follow-up, Feet Of Clay, outdid even that with 7 songs in 15-and-a-half minutes. Earl's latest, SICK!, has his typical brevity, but also more clarity. He's dug out his own vocals from the mix, which clears the haze from his profound rhymes (effortlessly clever one liners like "They stable full of sheep, we staying on the lam"). At the same time, he finds astonishing emotional depth, rapping lines like "True pain, I couldn't eat or sleep for seven days / Maimed me, I ain't weak / Keep changing for the better, what to do when your job thankless" over ambient tones on "God Laughs." The range, over 10 songs and 24 minutes, is dizzying. Few other artists can cover the same ground in 25-something-track albums that are so common in the streaming age. Earl is the antithesis of this thinking. He's one of a kind, and he's once again released one of the best rap albums of his generation. —MM
Turner is a punk-folk troubadour, a live performer who will make you consider quitting your job to follow him around the world, an artist whose moment has always been just a tiny bit out of reach. After a couple of listless albums–a run he might be addressing on "Haven't Been Doing So Well"– he's back in fine form with this one. It's intimate and inspiring, full of sometimes-uncomfortable lyrics you'll want to shout along with. In "Untainted Love" and "Farewell To My City" he leaves his partying days behind him, in "A Wave Across a Bay" he eulogizes Frightened Rabbit lead singer Scott Hutchison, in "The Reckoning" he bites the Hold Steady so hard it will leave a mark. But whatever he's doing, he sounds revitalized, and nine albums in, he's finally got his first UK number one. Here's hoping America catches on. —DH
Listening to her layered guitar textures, breathy vocals, and intricate melodic and rhythmic structures, it may seem somewhat surprising that 26-year-old singer-songwriter Nilüfer Yanya was once recruited to be in a pop group organized by One Direction's Louis Tomlinson. She turned down the opportunity. And since then, Yanya has released music that is decidedly unlike the clinical, mass produced product of the mainstream machine. On Painless, her second album, Yanya's music has a blustery disquiet. "There's nothing out there / For you and me / I'm going nowhere / Until it bleeds," she sings on the pulsing post-punk track "stabilise." On "midnight sun," which opens with OK Computer-era guitar picking and evolves into an eerie, tense sing-along, Yanya shows patience with her song structure, holding back until a crunchy, brief closing chorus. It's this type of control that makes her music so captivating. And Painless is full of these unexpected turns where a hook or cathartic chord progression is tucked just beneath the surface. —MM
Superchunk, Wild Loneliness
Listen, any new Superchunk album is worthy of celebrating. But this one is a little mellower, a little more acoustic, a little better suited to a Sunday morning than anything they've released to this point. On their 12th album in their 33-year career, the indie heroes dial it down a touch and without sacrificing their uniqueness, faintly channel their fellow North Carolinians Let's Active. If you know, you know; if not, you're welcome for the Spotify rabbit hole we've just sent you down. —DH
Ammal Hassan
Ammal Hassan is a writer and Esquire's Snapchat Editor.
Madison Vain
Madison Vain is the Digital Director at Esquire; a writer and editor living in New York, she previously worked at Entertainment Weekly and Sports Illustrated.
Dave Holmes
Editor-at-Large
Dave Holmes is Esquire's L.A.-based editor-at-large.
Advertisement - Continue Reading Below