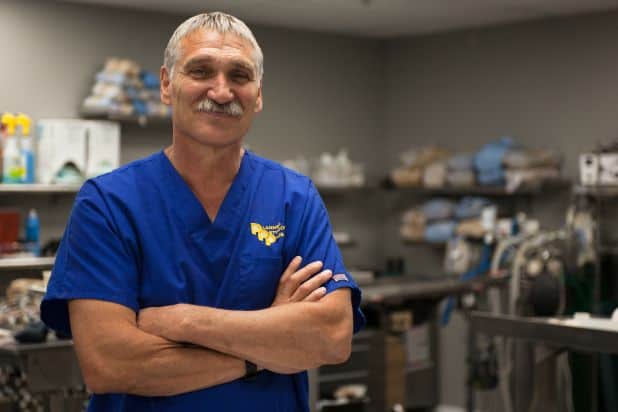 Jeff Young is a striking 6'3″, mustached individual with long and flowing hair, with a tattoo that mentions "Surgical Samurai" when translated in Japanese. He is not your typical doctor, but one of the most respected and experienced pet health practitioners all over the world. He is responsible for caring for thousands of clients and animals all over the world including livestock, domestic pets, and exotic animals among many others.
Here are some of the five things that you might not have known about Dr. Jeff: Rocky Mountain Vet:
1. It is one of the highest rated shows on animal planet
For those who are not aware, before its renewal, "Dr. Jeff Rocky Mountain Vet," used to be one of the most viewed TV shows with an average of 1.3 million viewers in each episode. Having said that, this exceptional amount of ratings were not any walk in the park for show's producers, with Jeff Young and his co hosts being extremely bust at the show.
2. Jeff Young was once struggling with cancer
During the second final episode of the show, Jeff revealed to his viewers of his cancer diagnosis. To be specific, he was once battling B-cell Lymphoma, and that the Clinic was in the process of moving from the Highlands and into the Wheat Ridge. He was diagnosed with cancer after his doctors found an 8cm mass growing in his lungs. Following this, he cut his signature hair by claiming it was because of the Chemo.
3. The fourth season of the show is a sure thing

While the season capped off with the third season, the fourth season has already been approved and is set to air at 9 p.m ET/PT on Saturday, Sept 30. In particular, the show will premiere as the Dr. Jeff and his team work relentlessly to save the life a dog. The dog has just consumed a tool belt, and has leather and metal in his stomach. This upcoming season seems to be packed with lots of entertaining content and is set to garner more views than previously.
4. Jeff has performed an average of 165,000 surgeries and with 25 years of experience
Believe it or not, Jeff has over his 25 years of medical services performed an average of 165,000 medical procedures. In addition to this, what's more appealing is his commitment and passion to provide affordable and high-quality pet care to all his clients. Whats lost for, in income, he can make up for in the immense number of animals that he treats and the immense sense of purpose that he gets from taking on such projects. It's no wonder he still has the energy to play the lead in yet another season of the show, after battling cancer and passing through comprehensive chemo procedures.
5. He once had to put down 56 puppies
During his earlier days, Jeff had to once to put down 56 puppies to due to a lack of space. This has since inspired him to take on a different philosophy towards controlling pet populations, which he always mentions on the show. What he does is spay and neuter pups to stop the overpopulation before it begins. . This is a procedure he has specialized in over the years and performs it almost on a daily basis.
Save
Save